ALL THE LITTLE ANIMALS
I HAVE EATEN
MARCH 24 TO APRIL 12, 2020
(CANCELLED DUE TO COVID-19)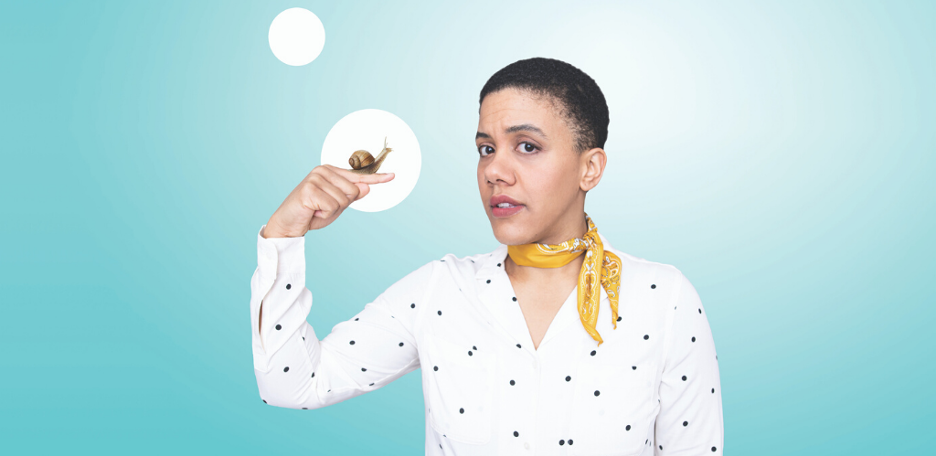 All the Little Animals I Have Eaten was to have its Toronto premiere on March 26, 2020, at Toronto's Crow's Theatre in a production by Nightwood Theatre.
Sadly, due to COVID-19, the show was pulled ten days before its first preview.
The production was to have featured the work of more than two dozen artists and collaborators. Keep Frozen salutes them all.
From Nightwood's site, 2020: A biting meditation on capitalism, consumption, precarity and hope in this latest dark comedy written and directed by Karen Hines.
Set in the extraordinarily modern bistro of an all-women's condominium, All the Little Animals I Have Eaten follows a tender-hearted young server on the most harrowing shift of her life. With a stellar cast of comedic performers, this timely play examines the commodification of feminism, neo-liberalism, and the increasingly unattainable dream of catching a piece of the real estate pie.
"Hines is an inimitable creator in Canadian theatre, an incredibly visual writer with a singular sense of humour that's insightful and twisted. Alarms should go off whenever she has a new work in town, especially after the harrowing real-estate horror story of her solo show Crawlspace."
– Toronto Star
"Karen Hines' wild mind shines"
– The Half Step

Starring (LtoR) Amanda Cordner, Belinda Corpuz, Lucy Hill, Amy Rutherford and Zorana Sadiq
Stage Management by Ken James Stewart
Assistant Direction by Teiya Kasahara
Set and Costume Design by Gillian Gallow
Lighting Design by Bonnie Beecher
Music & Sound Design by Richard Feren
Choreography by Tracey Power
Production Dramaturgy by Guillermo Verdecchia
Stage Management by Ken James Stewart
Assistant Direction by Teiya Kasahara*
Associate Sound Design by Maddie Bautista
Head of Wardrobe Joyce Padua
Co-Production Managers Pip Bradford and Ellen Brooker
Accessibility Consultant Jessica Watkin
Song: Melody & Lyrics by Karen Hines; Arrangement by Richard Feren; Additional Harmonies by the Cast.
*Made possible through the Canada Council for the Arts
Approximate run time: 90 minutes, no intermission (subject to change)