Pochsy Productions (a.k.a. Keep Frozen)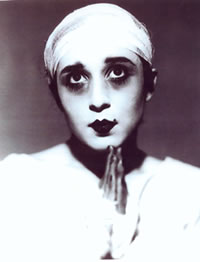 "A miracle of bitter hope... Hines has tapped into the confusion and alienation unique to our age and mined a work of gossamer charm and deadly power." – Simon Houpt, Eye, Toronto
Pochsy Productions was founded in 1992 for the company's first show, Pochsy's Lips, which won a loyal cult following, and went on to play theatres and festivals across Canada, the U.S.A. and Germany. Since then, the company has developed and produced seven more shows featuring casts large and small (see Production History).
Over the years, venues have included Soulpepper, Videofag, Tarragon Theatre, Factory Theatre (Toronto), Boca del Lupo, PushOFF, Vancouver East Cultural Centre (Vancouver), One Yellow Rabbit and the High Performance Rodeo, Alberta Theatre Projects (Calgary), Joe's Pub (Public Theatre), Alice's Fourth Floor (NYC), World Stage, Magnetic North, Beme Theatre (Munich), Actors Theatre of Louisville and many more.
Combining such disparate elements as magical realism, satire and horror, Hines' work has won a growing audience, numerous production and literary nominations and awards, as well as a reputation for original, hilarious and provocative entertainments.
"Imagine Greek Tragedy by Betty Boop"(Monteal Gazette)
"Hilarious and harrowing ... her comedy has the rare ability to make you laugh while feeling queasy ... [Pochsy is] the perfect clown creation for our time. (NOW)
"Wicked, original and superb." (Denver Rocky Mountain News)
"Imagine Greek Tragedy by Betty Boop"(Monteal Gazette)
"Hilarious and harrowing ... her comedy has the rare ability to make you laugh while feeling queasy ... [Pochsy is] the perfect clown creation for our time. (NOW)
"Wicked, original and superb." (Denver Rocky Mountain News)