Hello... Hello (A Romantic Satire) by Karen Hines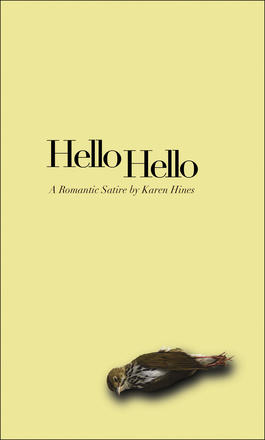 Karen Hines's genre-defying 4-person play with songs has been presented at Toronto's Factory Theatre and Tarragon Theatre, and was a multiple Dora, Chalmers and Canadian Comedy Award nominee, as well as winner of the 2007 Alberta Writers Guild Award for Drama.
In the vast, unnamed metropolis of Hello … hello, art and commerce have finally and completely conjoined; stylish cafés serve up zebra mussels and the air is thick with a gentle rain of sparrows plummeting down from the mirrored office towers. Everywhere, people are falling for an edgy new fashion accessory: a shiny ball filled with poison that hangs from a delicate chain...
The momentum and perspicacity of this inventive play is evident on the page. It is also obvious why Hines is lauded as one of the nation's premier dramatists.'
– Eye Weekly
A deliciously dark slice of urban whimsy ... who else [but Hines] could take the horrible image of birds crashing into mirrored skyscrapers and plummeting to their deaths and imbue it with such melancholy charm?
– Books in Canada
With influences as diverse and seemingly mismatched as Greek tragedy and mid-century Hollywood musicals, Karen Hines's latest satire is a bizarrely compelling work.
– Quill & Quire